This morning 57 volunteers participated in DEQ's monthly cleanup brigade. Although we picked up 1820 lbs of trash last week, we were still able to fill two trucks with beach debris and litter this week.
Beautify CNMI continues to draw a diverse cross section of Saipan's population to their events.
This event was hosted and planned by DEQ and volunteers from Marianas Resource Conservation & Development Council, Rep. Cinta Kaipat's Office, Saipan Church of Latter Day Saints, and Chacha Oceanview Junior High School's Junior National Honor Society were in attendance.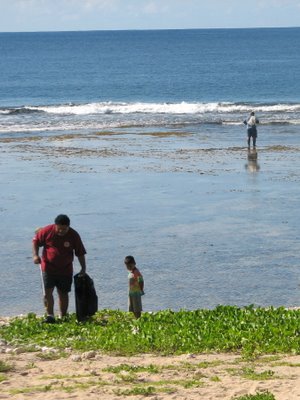 In the above photo Uncle Gus shows Junior how to work the trash picker up thing while a fisherman carrying a talaya looks for his family's lunch.
Beautify CNMI loves group photos. In the above group photo Lao Lao Bay and three fishermen are in the background.
One is never enough. Two group photos are always better than one.